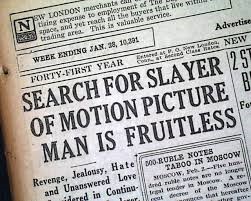 Bizarre Celeb Death: William Desmond Taylor
If you thought our post on the mysterious death of Natalie Wood was full of twists and turns, you'll be stunned when you learn more about what happened to William Desmond Taylor. Before Missy Palmer's death in our film Beverly Hills Ghost, this unsolved murder was the talk of Hollywood…
William Desmond Taylor was a famous director for Paramount Studios and even served as the president of the Motion Picture Directors Association for a few years. On February 2, 1922, Taylor was found lying on the floor of his apartment in a pool of blood. He had been shot in the back sometime the previous night. Nobody knows who murdered Taylor, but here are a few crazy facts about the case that'll leave you wondering who in Tinseltown didn't have a motive for killing the guy!
1. He had a thieving valet who may have known his secret…
Edward F. Sands was Taylor's previous valet and cook who disappeared after stealing $5,000 along with a few pieces of jewelry from Taylor. A few months before Taylor was murdered, he received a mysterious package with a receipt showing his stolen jewelry had been sold to a pawn shop. The receipt was signed "William Deanne Taylor," which, get this, was Taylor's real name. The reason he changed it? He was trying to hide the fact he had abandoned his wife and daughter! If Sands knew Taylor's secret, could he have come back to teach Taylor a lesson?
2. Paramount executives were in his apartment before police arrived…
Before police arrived at the crime scene, Paramount executives visited Taylor's apartment and took various letters and documents that have, to this day, never been found. Some even believe these executives placed a pink woman's nightgown in his apartment to hide the fact Taylor was gay. What exactly was Taylor hiding and how did the executives at Paramount know about it? The plot thickens…
Itching to know more? Don't worry, our part two next week will include more cray details and suspects in the William Desmond Taylor case! In the meantime, check out the trailer for our new film, Beverly Hills Ghost. Just don't get too spooked!