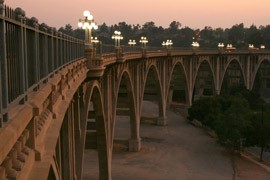 Colorado Street Bridge: Pasadena's Suicide Bridge
In 1912 while Pasadena's Colorado Street Bridge was being completed, a construction worker fell off the structure and landed in the wet concrete below. Though they tried, the other workers were unable to retrieve his body and ultimately, he was entombed in the concrete. Big mistake.
Fast forward to, well, now, and there's been an eerily high number of suicides from that bridge recorded over the years. Many believe the dozens of people who have committed suicide at the Colorado Street Bridge have been called there by the spirit of the deceased worker who beckons troubled souls to jump to their deaths.
So, we've got an old bridge with a creepy origin story and a long history of people committing suicide. It's def not surprising then to hear that passersby have spotted a few freaky ghosts wandering around this bridge!
One spirit seen on the bridge is 22-year-old Myrtle Ward who threw her baby off the bridge before she jumped to her death in 1937. Miraculously, her baby landed in a nearby tree and lived, so you can all breathe a sigh of relief. However, people say they've seen Myrtle's distraught ghost walking around the bridge looking for her baby. So sad AND so spooky.
Other ghosts that have been spotted there are a man in wire-rimmed glasses and a woman in a long flowing robe who disappears as soon as she leaps from the edge of the bridge. Whether these rumors are true or not, it sounds like people should stay as far a-freaking-way as possible from the Colorado Street Bridge – we're legit covered in goosebumps!
Watch Beverly Hills Ghost
The police reports say that Missy Palmer fell off her balcony in a tragic accident…but did she really? Watch our latest teen comedy Beverly Hills Ghost soon to find out if the ghostly Missy Palmer and her nerdy bff, Sari Coogan, can discover the truth about her death as they infiltrate the popular crowd at Beverly Hills Senior High.