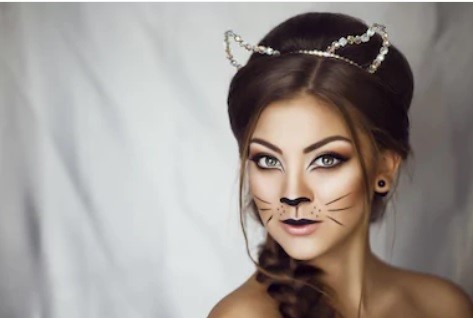 Cute Halloween Makeup Ideas
It's October, so you ghoulish gals know what time it is – Halloween! But sometimes getting a whole new costume can be so freakin' expensive and it's hard to pick the perf outfit... That's where makeup comes in! If you're invited to a last-minute bash this month, take a look at these cute Halloween makeup ideas for a quick, creepy, and perfectly fab costume:
A Cat
Cat makeup for Halloween is a classic for a reason; it's just so cute!! Draw on some whiskers and a little nose with black eyeliner and put black lipstick on your top lip for this look. You can make this feline vibe even fiercer by drawing spots on your face to become a leopard, or add stripes for a tiger finish.
A Scarecrow
Take out your favorite flannel and don some jean shorts for this simple Halloween makeup look! Color part of your nose and cheeks with orange eyeshadow and draw on stitches with black eyeliner. You'll be the cutest and corniest girl at the party!
A Ghost
But not just any ghost – you have to go as our girl Missy Palmer! Break out the smoky eye and contour your cheekbones with dark eyeshadow to get that ghoulish look and complete it with a dark or barbie pink lip. Don't forget a simple white dress to complete this look, but maybe stay away from any swimming pools, kay?
Did you know our movie Beverly Hills Ghost is on iTunes? It's the perf flick for your next Halloween-themed sleepover, so make sure to buy it here!